Our recent photo shoot was hosted by Joy Orr in her pristine bridal shop, Bride and Joy, in Culpeper, Virginia. She was ready for us and had set up multiple intimate settings for our models to use! Because of her stunning sets we were able to get plenty of photos of our beautiful Yesdress models; Amanda Hickling, Jessica Mitchell, Merric Manor, and Joy Orr herself! Each lady got to flaunt different Yesdress wraps and it can be hard for even us to believe that it's the same dress!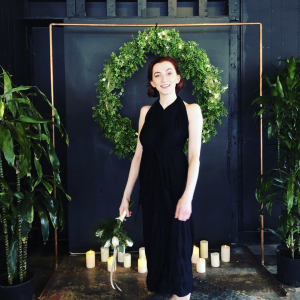 Since the Yesdress is perfect for bridesmaids, we thought it fitting to have our shoot at Bride and Joy. Joy was able to provide us bouquets of flowers from her florist, Good Earth Flowers and Events, located in Culpeper as well. As our photo shoot progressed, we became aware of the collaboration we had slapped together. There we were, in a bridal shop run by Joy, holding flowers made from her florist Jammy Ramey, taking photos with Jessica Mitchell (who was kind enough to style the hair and makeup) and Amanda Hickling, owner of Fearless Waxing (also located in Culpeper). It was a collaboration of women business owners/entrepreneurs that we were proud to be a part of.
It was exciting to see each woman experience the dress in the many styles we photographed that day. Jessica Mitchell and her six month baby bump was all maternity shine and glow, while her sister, Amanda Hickling (bottom left, we have the two sisters together) fawned over her with adoring compliments. Not to mention, all of the ladies in fact were friends and therefor had the comfortability with one another to feel free to joke, pose and most importantly, have fun. Each woman added their own style and attitude to the dress that made for such a unique photo shoot. We love to see women feeling good, looking good and having fun in the YesDress; it is a huge part of our vision.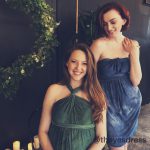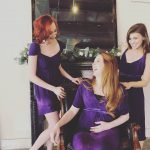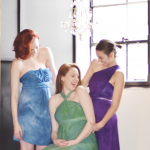 It was such a pleasure to work together with these ladies with their positive, excitable attitudes and many jokes!
Here we have our host wrapped in sleeves in our classic black dress. A special thanks to Joy for not only hosting our bridal photo shoot, but for modelling for us as well. We look forward to collaborating with Bride and Joy in future!